XM + Creative & Branding
Bringing the game-day experience home with Ford and MLSE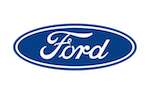 Situation
For the 2021 Leafs and Raptors season, Toronto sports fans can't cheer on and celebrate in traditional ways––whether at Scotiabank Arena, bars and restaurants or, in friends' and family's homes. As a proud sponsor, Ford Motor Company of Canada wanted to continue to engage with these fans and reignite game-day excitement, while also giving back to the community during a difficult time. The question at the crossroads became: how might we re-envision the game-day experience outside the traditional settings fans typically watch the game?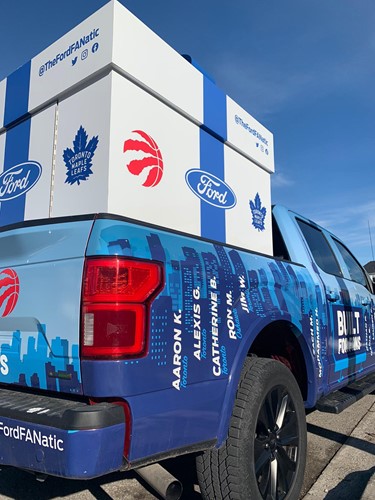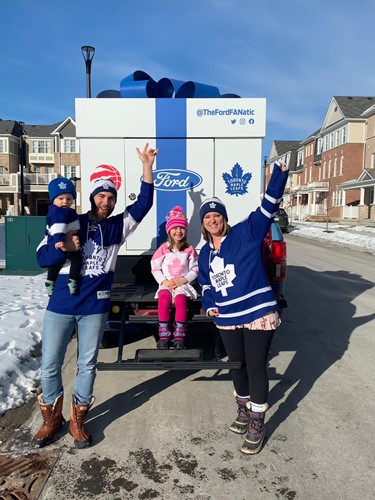 Approach
We jump-started the process with rapid ideation, which resulted in an all-around fan campaign that activated virtual and in-home experiences. The first was an F-150 Home Opener Contest. Through a social media contest, fans voted for their favorite Leafs and Raptors vehicle design to win a Game Day Party delivered right to their doorstep. Ford executed the delivery of these Game Day Party Kits to winners in the most popular fan-voted design that was wrapped onto an all-new Ford F-150. Kits were filled with swag, decorations, jerseys, a pregame meal from Real Sports Bar, a virtual meet and greet with a Raptor or Leaf alum, and more! Building on the popularity of these parties, Ford wanted to reward heroes in the community with these Home Viewing Parties all season long! A nomination system was developed for the season, which fans used to recognize heroes giving back to their community during these difficult times. Now, every month, as a sign of thanks, Ford and the fan-designed F-150 continues to drive up to the doorsteps of community heroes with the surprise of a Game Day Party of their own.
Ford Game Day Live Trivia, another activation, happens during the intermission and halftime of every Leafs and Raptors game. Ford Game Day Live Trivia challenges fans to answer questions in real time, online during our hosted trivia competitions. Adding to the fun is Ford Prop Picks, which allows fans to make game-based predictions for their chance to win a prize every week. A virtual Ford Photobooth lets fans take their picture and apply themes, filters, and backgrounds, with prizes awarded to the proudest people who post their pictures on social.
These activations will continue to engage fans for the remainder of the Leafs and Raptors season. Together, they'll leverage fan data while rewarding fans in physical, tangible ways that make the game real.
Check it out.
Results
So far, Ford of Canada has engaged thousands of Canadians in activations since season launch. Fans playing for a chance to win prizes like jerseys or custom prize packs have resulted in 3M+ impressions across social, 20,000+ contest entries, and a 49% opt-in rate. The campaign will continue to boost Ford brand favorability among fans throughout the 2021 season.